The first thing you have to know about floating coolers for kayaks is that they're exactly what they sound like.
They are small, boat-sized inflatable coolers that function the same way as an ice cooler you'd keep in your house or car, with one major difference. If you're basking in the sun and the water and sun, nothing beats an icy drink to ensure that your day is perfect. It doesn't matter if you're kayaking or just relaxing in the shade.
Rather than being made of metal, they are made of lightweight material meant for staying afloat on water. So they are designed to float in the water and you can connect them to your kayak. They will be partly in the water and it will keep your stuff even cooler. This makes them easy to store, transport, and use while out on the water.
So let's talk about our top pick and the best cooler currently on the market.
The CreekKooler PuP!
This floating cooler is the top choice for any serious paddler. It looks similar to many waterproof storage compartments in kayaks and this is truly a godsend. The cooler is watertight and the size is enough to store more than food.
Any valuables, your personal things can be kept in it and you are sure that this won't get water in. It's the best way to add quick storage to your kayak and to feel relaxed about carrying more stuff.
The CreekKooler PuP weighs 3.4 kilograms and is available in multiple colors so you can match it with your kayak. Or maybe create a cool contrast.
Some of its features are:
A 15-quart capacity
It has two drink holders on it
It can hold more than 15 cans and 10 pounds of ice
It is insulated with foam
It can hold ice for 24 hours
The opening is easy to access and water right
It will easily follow your vessel and navigate with you
Made in the USA
In many ways regards to transporting food, drinks, or other equipment this is far superior to coolers on deck. It doesn't take up any extra space, it glides smoothly ahead of you without altering the speed or handling and drastically increases the amount of gear you can carry when you paddle.
It's also universal, meaning that you can utilize it in conjunction with your kayak or paddleboard without the need for separate setups with different boats. Simply attach it to the appropriate anchor point with the nylon rope and carabiner and you're ready to go.
The CreekKooler PuP Floating Cooler is one of the most impressive pool floats that we've ever seen. It's large enough to accommodate at least a container of soda, beer, and other drinks, and is very well-constructed.
It's the ideal size for pools of all sizes and is perfect for anyone who enjoys the outdoors. We recommend this product for anyone who wishes to carry their drinks with them on the next excursion to the pool or lake. You could even use it as a normal cooler.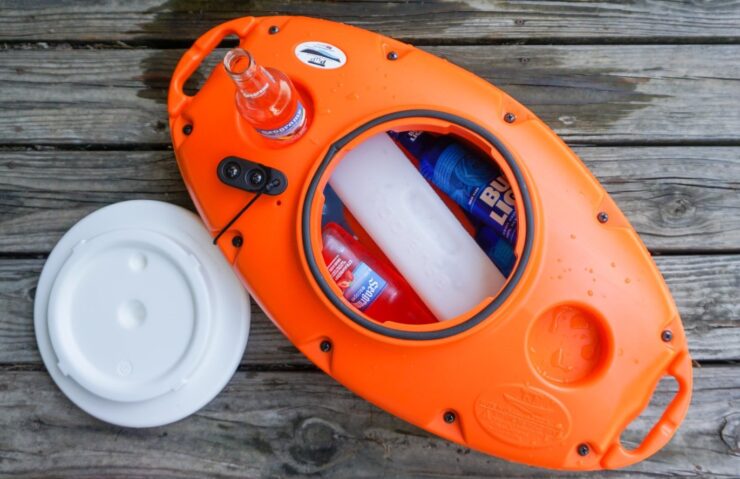 If you're not sure whether these things would be helpful to you, here's a list of some safety tips that may make using these coolers easier:
Use a leash for your cooler so it doesn't fall overboard while you're on the water or when you need to get out of your kayak
Keep in mind that because these are inflatable, they could puncture or leak if stepped or sat on, so try to avoid doing either of those things
Check the weather conditions before heading out on the water to make sure you will be able to handle any waves that may come up along the way While there are many pro's and con's associated with floating coolers for kayaks, most people find that these coolers are useful additions to their adventures on the water. With some simple precautions, they can provide great benefits without causing too much trouble.
Make sure you buy cans over bottles. Glass isn't allowed in the vicinity of rivers as it could be dangerous if broken.
Be sure to check the restrictions for the region. Certain rivers do not allow drinking alcohol while tubing on rivers.
Coolers that have side cupholders could be an exciting addition because they provide you with the possibility of setting your beverage down. If you plan a trip on the tubing with us the cup holder can be put right to your tube!
Coolers with easy access are an alternative. These coolers will have numerous entry points and flap simply to close and open.
Take a trash bag with you and store it in your cooler. After you've finished your drinks or food, throw it into the bag to make cleanup easy.
Store your food in containers to avoid it becoming wet or consume it fast. Most likely, the ice that you have will melt, and then your food which was once sitting perfectly on the ice will get submerged.
You should have ample water. You can also bring extra water. You are the one with water to share.
Coolers can also function as storage containers. If things don't be soaked or stored properly stored the cooler is an excellent way to store diverse things.
Conclusion
This concludes the article on floating coolers for kayaks. You now have some pieces of information that may convince you that getting one is a good idea, and you also know some precautions to take when using these coolers on the water.
If you found this helpful, feel free to share it with friends or family members who may also enjoy having one of these around the next time they plan to go kayaking.