There are many dangers that kayakers face, both above water and below it. One of the most dangerous scenarios is tipping over in your kayak while out on a lake or even within the tributary of some river.
When this happens, you're going to start experiencing hypothermia if you don't have a personal flotation device (PFD).
Top Pick
Best Price
Don't Miss
Also Consider
Stohlquist Edge Lifejacket (PFD)-Mango-S/M
Onyx 122200-505-020-15 MoveVent Dynamic Paddle Sports Life Vest, X-Small/Small, Aqua
NRS 40013.04 Paddling Kayaking Watersport Ninja PDF Ultimate Low-Profile Jacket Size L/XL, Black
Top Pick
Stohlquist Edge Lifejacket (PFD)-Mango-S/M
Best Price
Don't Miss
Onyx 122200-505-020-15 MoveVent Dynamic Paddle Sports Life Vest, X-Small/Small, Aqua
Also Consider
NRS 40013.04 Paddling Kayaking Watersport Ninja PDF Ultimate Low-Profile Jacket Size L/XL, Black
A PFD is meant to provide buoyancy for your body so that you can stay afloat with ease without having to expend nearly as much energy as you would if you didn't have one. There are many different types of materials used to create inflatable life-vests that will help support an individual's weight in water, but they also come inflated already just in case they're needed for a rescue.
The shape of the PFD determines the way it will float you. The position of the flotation foam on the body makes sure it's submerged, allowing for lift. Foam that sits above the waterline during a swim isn't floating you, though some padding on shoulders' tops can be great when you're traveling.
This is important to kayakers because it's going to take a lot of energy and effort trying to keep afloat if you aren't wearing any kind of PFD, but if you are wearing one then you can rest easy knowing your body will be nice and buoyant in the water, which reduces the danger level substantially.
You don't want to have to worry about drowning or being overcome with hypothermia while out on an expedition. By having a properly fitting PFD, you're giving yourself that little extra bit of safety that just might save your life one day.
Let's List Some of Our Best PDF's for Kayaking in 2021
1. Stohlquist Edge Personal Flotation Device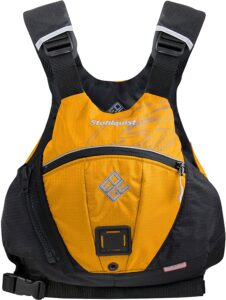 The Stohlquist Edge is a great PDF that has some nifty sizing which makes it unique in how it follows the shape of the paddler. You need to make sure to get the right size of foam for your body type and it is truly one of the comfier options on the market.
It was designed with whitewater in mind and it has some of the biggest mobility of PDF's today. Stohlquist has a long standing reputation in the water safety business and we trust them completely.
Pros
Unique design for all sizes
Premium sponge and design that will prevent chafig
High moblity and a really handy center pocket
High visibility colors and accents
Great price
2. NRS Chinook Fishing Kayak Lifejacket

Produly made in the USA this a true fihermans lifeacet. With big pockets where you can stash all your accessories and tools, you will have all so close by. A more classic design, the NRS Chinook is a choice for those who want to keep things simple and safe. It is also a great option for bigger guys who fish and are out on the water. Extremely durable and a great product all around.
Pros
So many pockets
Very easy to adjust to any size
Comofratble sponge
3. Onyx MoveVent Dynamic Paddle Sports Life Vest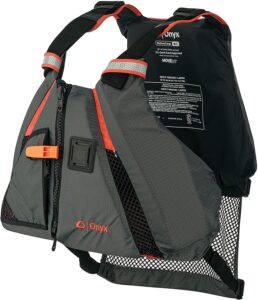 The Onyx MoveVent life jacket is something that was approved by the U.S. Coast Guard. Which definatly tells you something about the quality of this vest.
Built to last and built to save you life, the onyx features dual sizes, big pockets and a high back mesh which feels comfy and keeps you on the cool side. Onyx is a big name in the outdoor industry and you can't go wrong with this life jacket.
Pros
Great and comfortable pads
The zippersat are great
Very durable
The mesh really makes a difference as you don't feel the vest because of this
4. NRS Ninja Kayak Lifejacket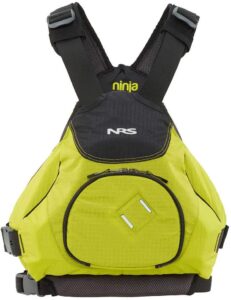 The NRS Ninja Kayak Life Jacket is another good PDF that is a great option for smaller people and kids. It features 6 adjustment points so you cna be sure that the life jacket is set up right on your body. We also like the foam that was used in the jacket and the nifty handwarmer/front part of the jacket.
Pros
Can fit really snug for smaller paddlers
Comes in some cool colors
Great zippers
Fron pocket is really handy
5. Night Cat Life Jacket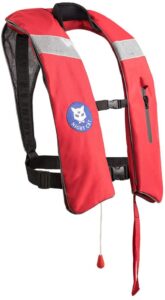 The Night Cat Life is a manual inflatable life jacket that is one of the most sold jackets. With good reason! The price is right, the fit is universal and the comfor is on a high level. This life jacket is one of the, if not, the most mobile option when paddling.
It will support up to 330lbs and the manual inflation happens in under 5 seconds. We especially like the neoprene neckline that will prevent any chafing or discomfort. A great product from a great company.
Pros
Durable and widely used by many water sports enthuastish
Fast inflation
Great price
Just the right size
6. Airhead Base Paddle Vest by YUKON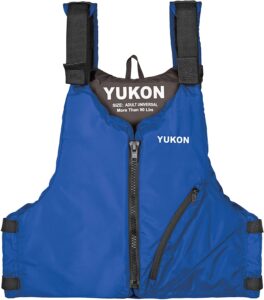 Last but no least we have the Airhead Base Paddle vest designed for all water sports. The Yukon Paddle vests are all great and we can see their experience of almost 30 years when we look at the design of this jacket. With 6 adjustment points, nice neoprene shoulder pads and a mesh back that will keep you cool, this vest is a great choice.
Pros
It has a nice big front pocket
Good budget option
Super light and it has that handy loop so you can hang it easily when drying
A great fit for anybody really
PERSONAL FLOATION DEVICE FAQ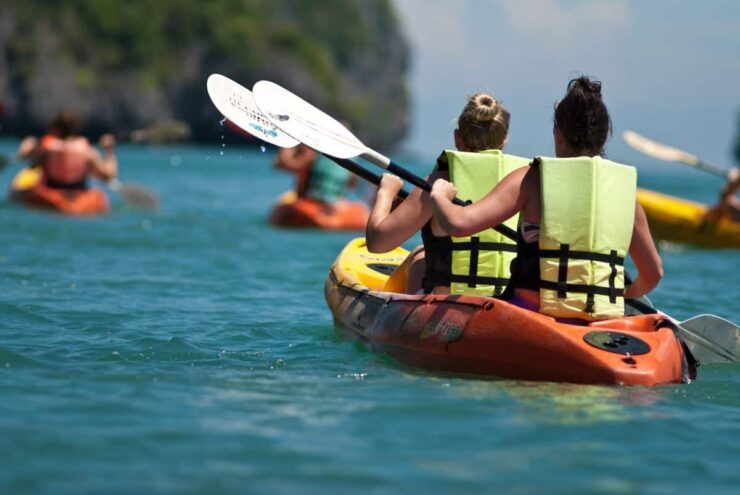 1. How important is a PFD for kayaking?
It's so very important because you never know when you might tip over . It can happen to the most experienced of kayakers, and it only takes a split second for this kind of accident to occur.
By having on your PFD , you're giving yourself peace of mind as well as the capability to have the power to keep yourself afloat in case you ever need it. You don't want to be that one person who doesn't bring a life-vest with them because then their friends will have to worry about going out of their way just to save them if something happens.
2. What are some safety precautions kayakers take?
There are many different things you can do to ensure that you have a much safer kayaking experience. For starters, make sure you bring your life-vest with you even if it's just to be on the safe side.
If the weather forecast says that there is going to be a really bad thunderstorm then don't go out and risk getting struck by lightning because you didn't take precautions like asking for an early start time for your expedition or maybe opting to reschedule until the storm has passed.
3. What are some reasons why people drown?
People who drown usually fall into one of two categories: they either get trapped underneath something heavy like a log cabin, which prevents them from surfacing word, or they get disoriented in open water and become too tired to keep swimming and slowly drown because they aren't getting enough oxygen.
It's important to be in tip-top shape before you go out kayaking just in case something goes wrong, and that also means knowing your limits when it comes to physical exertion. Don't always assume that you're going to have 100% energy all the time either.
If you haven't been doing much physical activity lately then your stamina is going to drop by at least 70%.
IMPORTANT THINGS AND TIPS TO KNOW ABOUT PDF'S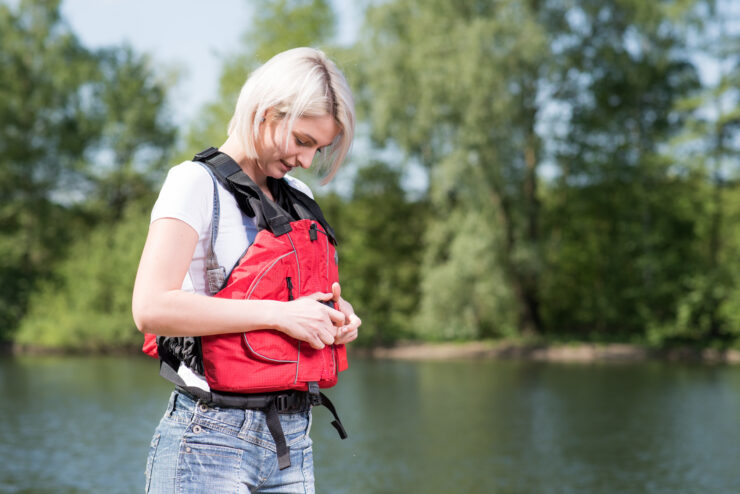 1. Don't go out without one!
2. Anything less than an inflatable PFD is NOT enough, especially if you're going to be spending a lot of time on the water doing activities like fishing or playing around with your kids. These are all really good reasons why you should bring something that can save your life in case something goes wrong.
It's better to be safe than sorry, and that's exactly what these flotation devices do for you when you need them most. They'll keep your head above water so that you can breathe easy and rest until help arrives because exhaustion kills many novice swimmers who think they can just tread water all night long instead of trying to signal for help by waving their arms around.
3. Don't buy cheap PFDs because they will not do you any good when you really need them!
4. Don't leave your child out in the water without a PFD because it's really dangerous to do so, especially if they are younger than ten years old because these children don't have enough upper body strength to keep themselves afloat should anything go wrong.
They'll panic and try to make their way back to shore without realizing that they are actually drifting further away from safety with each passing moment. Never let yourself get into any situation where this might happen, and invest in a high-quality inflatable life-vest for them instead of something cheap and flimsy like what most parents wear on airplanes .
5. Try to find a PFD that is in your price range and that you can afford, but don't cheap out either because they're not going to keep you safe when the time comes!
6. Buy from reliable brands so you know for sure they won't fail you when you need them most!
How To Take Care Of Your PFD – A Guide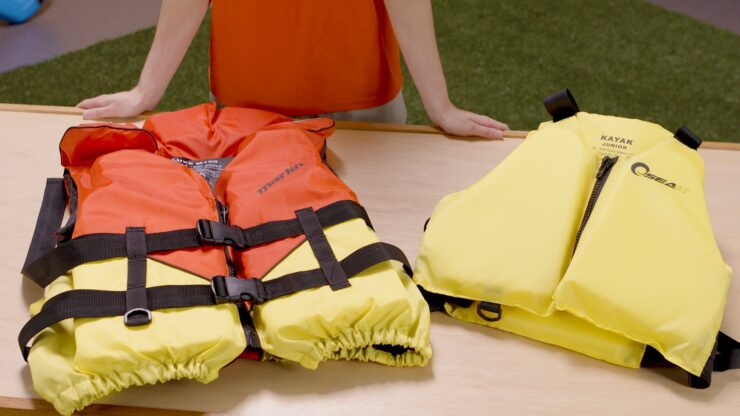 Always keep an eye on your PFD for signs of wear and tear because if there are obvious rips, tears, or anything else that isn't working correctly then something needs to be fixed immediately.
Routinely check your PFD to make sure the valve is still properly working and that it's not too easy to accidentally activate or deactivate when you don't want it to be. You should assume that this could happen at any moment while out on the water, so always think about what might go wrong before getting into trouble.
Make sure you're not forgetting to inflate your PFD because if anything goes wrong then you won't have time to do it yourself. This is why people wear them around their waists, but only use the pull-cord when absolutely necessary! It's better to leave it unopened than it is to leave it deflated because either way something isn't working as it should be and you might die as a result.
Don't take the stuff inside your PFD for granted because some of them contain highly valuable items that could save your life! This is why you need to read up on what it contains and how to use each item if the time comes where they'd actually be helpful.
Things like signal mirrors and whistles can help attract help from hundreds of yards away, but they're useless if you don't know how to use them properly or haven't memorized their usage.
You must learn how to inflate your PFD properly before getting onto the water with it… otherwise it's only going to cause more problems than solutions when something goes wrong… which it almost certainly will.
Make sure your PFD is within five years of its expiration date because otherwise it's not going to work nearly as well when the time actually comes for you to need it. This is yet another reason why you must learn how to properly take care of and maintain any and all equipment that you purchase, especially things like this!
Check that your lifejacket has been inspected after every use and that everything is in full working order, especially the self-releasing mechanism! This is one of the most important parts of any PFD and no one should kayak without one.
Never let yourself get so old or feeble that you can't take care of basic maintenance on your own around the house, including putting up this flotation device properly when not using it so it doesn't become useless when you do need it for something as foolish as kayaking out in the ocean!
Take a look at these PDFs that are available on Amazon:
Sale
1 - Onyx A/M-24 Automatic/Manual Inflatable PFD Life Jacket - Blue
U.S. Coast Guard Approved Type V Life Jacket / Personal Flotation Device (PFD) with Type III Performance
Automatically inflates upon immersion in water or when the wearer pulls the "Jerk to Inflate" handle
Equipped with back-up oral inflation
Comfortable, lightweight, low profile design
Provides comfort, safety and peace of mind without knowing you have it on, until you may need it
Astral V-Eight Life Jacket PFD for Recreation, Fishing and Touring Kayaking, Burnt Orange, S/M
MADE FOR SAFETY: Stay afloat with PE and EVA foam inserts; Buoyancy rating of 16 lbs; USCG Type III Approval
RECREATIONAL FIT: Pre-shaped foam in the front and back makes for a comfortable fit for men and women; Great for high seat backs; Center front zip and...
BREATHABLE: Airescape system eliminates excessive heat and maintains a comfortable temp so you can stay cool; Two large zippered front pockets for...
DURABLE: Made to last for many adventures; 200 x 400 Denier Ripstop Nylon shell and breathable polyester mesh liner; PolyPro webbing, heavy duty...
NATURE FIRST: Every product in our line is completely free of toxic PVC; We reuse as many scraps as possible, recycle everything and even compost our...
NRS Vapor Kayak Lifejacket (PFD)-Black-XS/M
Six-panel design constructed with ultra soft foam for a flexible fit that effortlessly wraps your torso and flows with your movements
400 denier nylon ensures season-after-season durability
AirMesh inner panels provide ventilation throughout the jacket
Features padded shoulder straps, strap garages and reflective accents for low-light visibility
The Ion is a Type III, low-profile life jacket designed with 16.5 pounds of flotation and carries the US Coast Guard Certification, through testing by...
NRS PFD Foam Chinook Unisex Fishing Kayak Lifejacket, Bayberry, Small/Medium
Comfortable fishing lifejacket provided to make your fishing experience better, while keeping you safe out on the water
Designed to be roomy in the front with a great fit in the back
Soft, PlushFIT foam fits to your body type
Comes with multiple adjustment points so you can tailor it to fit your body each time
Equipped with 2 large zippered pockets, 2 accessory pockets, and 1 tool holder pocket that let you keep all of your fishing essentials close by
MUSTANG SURVIVAL M.I.T. 70 Manual Inflatable PFD
Mustang Survival M.I.T. 70 Manual Inflatable PFD
Mustang Survival M.I.T. 70 Manual Inflatable PFD:
500 Denier Cordura Outer Shell
Exclusive Membrane Inflatable Technology Inflation Cell (See SKU: MSTAIT70I)
Waist Band: 2" (5.1 cm) Polypropylene w/Squeeze-Style Side Release Buckle
NRS Rapid Rescuer Type V Adjustable Life Jacket Vest Personal Flotation Device with Large Storage...
STYLISH AND FUNCTIONAL: Stylish life jacket for water activities from boats to fishing with 22 pounds of flotation
LARGE STORAGE POCKETS: Features 2 large front pockets that stretch to hold anything from a GPS to a VHF
COMFORTABLE DESIGN: Box-stitched stress points, reinforced shoulder straps, and a 500-denier Cordura shell adds extra strength and durability
RESCUE TECHNIQUES: Quick-release rescue belt with stainless steel ring for "live bait" and other swiftwater rescue techniques
SAFETY FEATURES: Features 3 front lash tabs to store small water essentials, plus 1 back tab for a strobe and chem-light holder
Sale
Stohlquist Women's Cruiser Lifejacket Gray
Higher mesh-back design offers increased clearance for tall seat backs
USCG Approved
Cross-chest cinch harness for zero ride-up
3M reflective on front and back
Type III PFD with sea level buoyancy of 16 lbs 4 oz
NRS Women's Zoya Kayak Lifejacket (PFD)-Red-XS/M
400 denier ripstop nylon fabric construction is guaranteed to protect your jacket from snags and tears throughout the seasons
The high-back flotation accommodates most high-back kayaking seats and the mesh lower provides ventilation on warm days
Supple foam panels in the chest comfortably mold to a woman's bust
Two sleek, zippered pockets offer easy access to the essentials without adding unnecessary bulk to the front of the jacket
Features a lash tab and 3M reflective accents for better visibility in low-light conditions