Sit-on-top kayaks are an excellent choice for many types of people. They offer the user stability, maneuverability, and comfort to make your paddle trip enjoyable. They are excellent watercraft for fishing because you can stand up in them without tipping over. Constructed with a closed deck to keep the water out, sit-on-tops (SOTs) maintain their lightweight and durability.
Best Choice
Good Choice
Don't Miss
Also Consider
Kokanee Sit-On-Top Kayak, Lime, 10'6"
Perception Pescador 12 | Sit on Top Fishing Kayak with Front Storage Well | Large Rear Storage and...
Pelican Kayak Sonic 80X | Sit-On-Top Recreationnal Kayak, Orange, 8 Feet
Pelican Sit-on-Top Kayak - Sentinel 100X - 9.5 Feet - Lightweight one Person Kayak
Best Choice
Kokanee Sit-On-Top Kayak, Lime, 10'6"
Good Choice
Perception Pescador 12 | Sit on Top Fishing Kayak with Front Storage Well | Large Rear Storage and...
Don't Miss
Pelican Kayak Sonic 80X | Sit-On-Top Recreationnal Kayak, Orange, 8 Feet
Also Consider
Pelican Sit-on-Top Kayak - Sentinel 100X - 9.5 Feet - Lightweight one Person Kayak
About Sit On Top Kayaks
Sit on top kayaks have very few disadvantages when used for the type of trips they were designed for. They cannot be paddled as efficiently or fast as typical touring kayaks however there is no reason that they could not be used to do longer trips if one chose to use them that way.
For most day-trippers who want to get out on the water and have a good time, they are perfect. They are very safe with high sides, the open deck gives you a lot of room if you fell in or want to jump in for fun or fishing.
Sit-on-tops give users great stability when used with proper technique, so paddling is easy even when kneeling. Sit-on kayaks provide more initial stability than typical touring boats, but that stability does not increase proportionately as the load gets heavier.
List Some of Our Favorites Models
1. Lifetime Lotus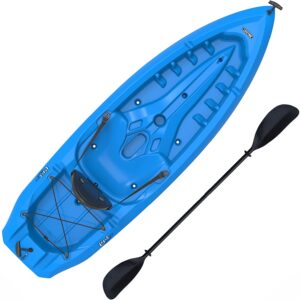 The Lifetime Lotus is as basic as you can get but it is the perfect beginner kayak for anybody. This hardshell vessel is built with performance and ease of use in mind and it weights 38 lb. with a maximum capacity of 250 lb. which means this is not for tall or really big guys. In any case with its low price, it is perfect for smaller beginners and it comes with a five-year warranty.
Pros
Plastic is durable
Has a nice storage tank
Very stable with multiple skegs and hull increases to prevet capsizing
Ideal for beginners
2. Lifetime Kokanee


Another plastic kayak from Kokanee is a great option for bigger guys or taller people. Lifetime has also made this one light to carry and very comfy. This is the ideal choice for a cheap tandem kayak when you want to explore calm waters with a dear person of yours. With multiple footrest position options and a great seat, you will be sure to spend hours in it. You get the same fiver year warrant on the hull.
Pros
Good size, ideal for tandem kayaking
Durable plastic
Nice storage hatch and the bungee storage option too
Super stable and good for beginners
3. Perception Pescador 12


Okay, this one goes around $700 which is a bit more on the pricier side, but we had to include it. Why? Well, it's the top option for a sit-on-top kayak and something that you should want down the road in your kayaking travels. Or should we say down the river? The Pescador 12 is a greatly built polyethylene kayak that is one of the most stable and comfy options on the market. It rocks ergonomic seats and a design that can withstand faster waters.
Pros
The padding is amazing
So many storage options
Ideal for any fisher
One of the best 12.0 kayaks that has rod holders, phone holders etc.
4. Pelican Kayak Sonic 80X

The Pelican Sonic 80X has an open cockpit that provides freedom and the ability to carry all your gear and things on the water. Designed with stability in mind it has a max. The capacity of 225 lb. makes it more suitable for smaller people. You may see that most cheap kayaks are built for smaller-sized paddlers. Another great beginner kayak.
Pros
The twin tunnel design makes it super easy to control
Nice storage options
Ergonomic seat
Good drain plug position
5. Pelican Sentinel 100X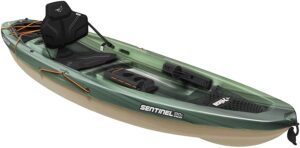 One more vessel from Pelican suited for fishers. If you are looking for that beginner fishing boat this is the vessel you want. Great design with a multi-chine flat bottom hull makes this boat super stable and ideal for catching big fish. The price is right and this kayak definitely tics some of the more important boxes for a vessel where you will be spending a lot of time.
Pros
Comes with Expapcks, Pelicans storage units
Super stable and ideal for beginners
Minimal force is needed to get around
Great price
FAQ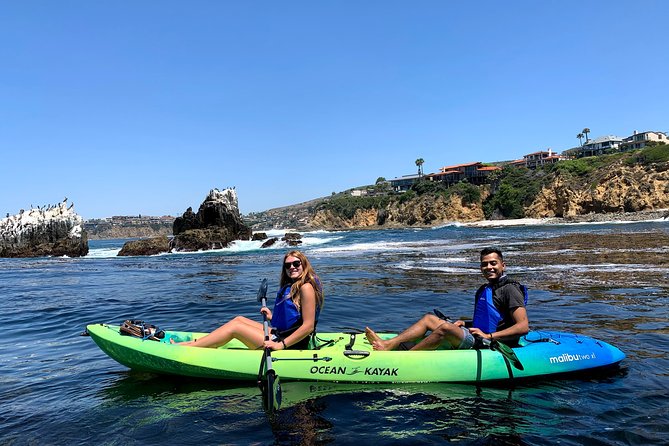 Will SOT Kayaks Warp In the Sun?
SOTs can be left in the sun without warping and have no center hatch to leak. If you roll over, there is no heavy boat above your head to flip back up. Sit-on-top kayak seats are comfortable and adjustable to different positions. Since the deck is open, air circulates through more freely than in a sit-in kayak. The short gunwales of open-style kayaks make cargo stowage easy.
Can SOTs sink?
SOTs are extremely buoyant and unsinkable. They are very stable even on flat water, but may not be as efficient or maneuverable as other styles. They do not have sealed bulkheads like some other kayak types that keep water out during capsize or swamping situations, so it is important to remain clipped into your boat in case of flips for safety reasons.
What Is The SOT Kayak Performance Like?
Sit-in kayaks offer better performance in rough seas and stronger paddling techniques can turn them quickly in rapids when necessary however they are high profile boats that paddlers have a harder time reaching the water surface if they should fall out. Sit on top kayaks can be more expensive but usually last longer and because of their stability are great for families to use.
What Are SOT's Made Of?
There are many materials to choose from when buying one. It is also possible to get inflatable material for you to have a softer seat inside the kayak while out on the water. The majority of these kinds are made of plastic, fiberglass, wood, rotomolded polyethylene, and thermoformed polystyrene.
There are other kinds that have designs similar to surfboards because they will be used in moving fast over big waves. They usually have minimal space inside them for stowing away gear since users need only the bare minimum such as food and water for them to enjoy these activities.
Are SOT'S Safe?
Sit on top kayaks are very safe when paddled with proper technique. But it is important to stay clipped in the boat at all times during use for safety reasons. Since they have no bulkheads or compartments, water can easily be taken over the side from waves, swells, or capsizing. This frequently occurs when a typical sit-in kayak inverts in the waves.
Ventilation is another benefit of these kayaks because users can feel free to jump in for fun or fishing without having to worry about the heat. Also, they are easy to get in and out of so there is no need for using stairs since most users will simply step on top of it.
Storage Options
The best place to store them is garages or outdoors, on a special rack that is mounted on the side of any house. Make sure they are in the shade when not being used if left outside since too much sun exposure can warp its material.
Kayaking Solo Or In Two?
Are you planning to travel alone, with a friendly pet, or with a child? Another factor must be considered because it can make a big difference. If you're planning to do it on your own, choose an inflatable kayak designed to accommodate a single person. A two-person kayak can provide more area, yet it could be challenging to paddle. If you plan to paddle with a companion, consider a tandem kayak. They're heavy however the comfort that you and your partner will enjoy is worth it. Because they're not as transportable as a single kayak The two of you must do the lifting.
Kayaking Is for Adventure and Exercise
If you're seeking a kayak to take you on an adventure Any type of durable kayak is sufficient. Choose a sturdy, strong sit-on-top if your intention is to go surfing on the ocean as well as whitewater. If you're planning to venture to the wild and you want to explore the area, a big seat on top or a touring kayak is ideal.
If you're looking to get fit and exercise, then any kayak will perform. A slow-moving kayak needs greater paddling effort, and it's good for you. If you're planning an event or race, consider a more streamlined and fast kayak instead.
Some of the main benefits of these kayaks are:
Stability
Maneuverability
Comfort
Fishing/Standup Paddling
Cost
Durability-Longevity of Life Span
High Profile & Harder to Reach Water Surface in case of capsizing
So with all that, we hope you learned about kayaks and that we helped you in your future purchase. Happy kayaking.
Check the list below, there are more sit-on-top kayaks you might like: